Monica Sager, a Clarkie and Her Campus journalist, talks about her writing experience in and around Clark.
Sophomore year of high school, I decided to take Journalism 101. I wasn't expecting to follow it as a career. I just wanted to improve my writing. I was the nitpicker of the class. We would all correct each other's papers. I added commas, so much so that my teacher and I joked I was the "Comma Princess," a tribute to Mary Norris. Little did I know that once I sprained my ankle and wasn't able to do afternoon sports that I would be recruited as copy editor for the school's newspaper, The Hill News.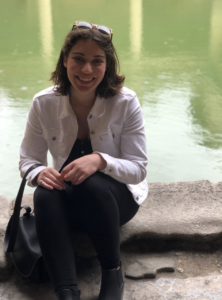 I still never thought of it as a career. It was just something I liked to do. I became the managing editor of The Hill News my senior year, and the editing board went on a trip to New York. We visited The Huffington Post and The New York Times. It truly opened my eyes to see the people typing away at their desks or furiously scribbling down notes while on the phone. I realized that this could really be a career. This was something I wanted to do. This was something I was good at.
I went on to Clark, following a summer internship at 60 Seconds Online Magazine, where I continued to take more journalism classes. The English major had just dropped the concentration of journalism, so I created my own major, weaving in courses from English, MCA, and ARTS. I wanted to gain as much knowledge in that field as possible. I joined The Scarlet and became the co-correspondent of Her Campus Clark.
I took on internships as well. The summer following my freshman year, I was an intern for The Pottstown Mercury. I wrote for the daily paper, covering business openings, local events, and town hall meetings. Last summer, I studied abroad through BU's London Summer Internship Program. I took two more classes in journalism—this time with a British focus—and I interned at The Week, where I wrote about five articles a day that summarized news from other organizations.
Currently, I am at the Telegram and Gazette. I wrote for this organization as a freelancer through my Arts Journalism and Urban Community Journalism courses prior to this semester, but now the experience is an internship course within itself. The very first day I was there, I wrote three articles within my six-hour shift. My editor joked how I would push him out of a job if I write that much. But I've continued to. I enjoy it. I actually have a phone interview in a few minutes at the time of writing this, and then later today I'm going to UMass Memorial to interview a doctor.
This is what I find fun. This is what I know is important. There will always be the need for journalism. News will always be prevalent. It is how people become informed. It's a means of communication. Journalism is able to point out what is wrong in society and urge a change. As an investigative journalist one day, I will not only be able to highlight the issues of society that need to be revamped but I will also have the opportunity to raise the voices of those less heard. The power of the word is mighty, and I want to use it.