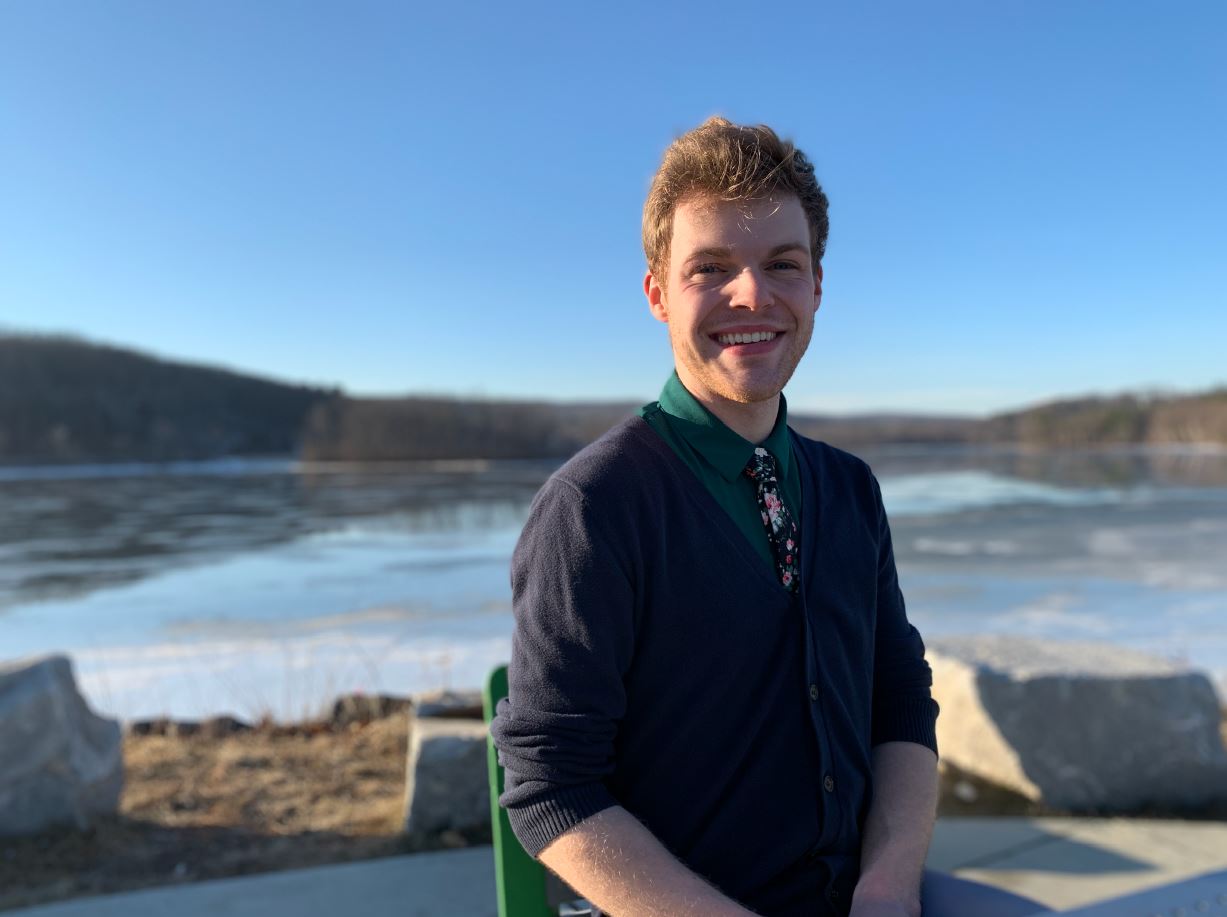 Zachary Noel, a recent graduate from our English Department, is currently a student in Clark's Master's in Teaching Program (https://www.clarku.edu/academics/graduate/programs/masters/teaching/ ) This interview describes his experiences in the program as well as advice for any English majors or minors who are thinking about teaching and considering going into the program.


 How do you find the MAT program and what are your thoughts on it?

The MAT is incredibly hard, as I'm sure anyone who has heard about it knows. It's not easy to understand how much work it truly is until you experience it, and it really is not a program for anyone who is not set on teaching. However, while it is incredibly hard, I have learned so much in such a short amount of time. I've developed so much as a teacher, and have been able to figure out my strengths and weaknesses, and how to use both of these and grow in both of these areas. I've been given so many experiences that most people don't get that allow me to leave this program a well-equipped teacher ready for the teaching force. The path from A to B is not one that is a light hike, but it is one that, if you are serious and dedicated, is going to be worth it.


How is it different or similar to how you imagined it to be?

You know, it's funny. I said how hard it is and blah blah blah, but the actuality of it is that the MAT is hard, but not in the way I expected. I thought it would be hard more in terms of the amount of work I had, and while I certainly do have my hands busy with work, it's more about developing the right priorities in your time managing skills and making sure you develop the right quality of work for what you need in each assignment and each lesson you teach. That is the time consuming part – this program has been a lot of developing the right time management skills, and I am living by the motto of "work smart, not hard". You won't get everything in on time and perfect, so know what needs to be priority and what you need to focus your energy on.


 How have you found your English degree has prepared you for and helped you in it?

My English degree has been a huge help for this program. To become an English MAT, you need to be able to pass the MTEL English Subject Test, which is like a whole 4-hour exam dedicated to English knowledge. If it weren't for my English major, there is no way I would have passed on my first try.
It has also introduced me to so many different areas of English, and so many different genres, that I can use to implement into my classroom. I work in a really diverse classroom, and using texts that reflect this diversity and expand my students' knowledge to cultures they don't know is something I really prioritize in my classroom. Professor Jones was my advisor, and she equipped me with a lot of knowledge on Africana studies that I can give the knowledge right back to my students. Professor Valerio's Latinx Literature and working with Professor
Huang on my capstone also introduced me to a variety of literature by Asian and Latinx authors that have allowed me to bring more knowledge of these cultures into the classroom. In this regard, I am incredibly thankful for my English degree at Clark University.


What are some favorite memories you have about the English department?

Professor Neuman has a special place in my heart, and when I took her class Poetry in Performance, I was able to understand poetry in a whole new light. It influenced me so much, that my first unit I taught was on poetry, in fact. That class reignited my love for the vast genre of poetry, and how much falls under the poetic umbrella. Not to mention Professor Neuman is a wonderful person, and any conversation with her is a delight. I always tried to visit her office once a semester after that class and catch up on the semester.


What are aspects of the MAT program that you enjoy or find rewarding?

Every day you spend in the MAT program is building up a skill in some way and giving you a new way to improve. I learn something new about what I can do differently every time I teach a lesson, and while it is incredibly nerve-wracking to be watched and evaluated on your lesson and how well your students respond and understand your content, you get to learn a lot from your mistakes and failures, and can learn a lot from anything that goes wrong. You really have no excuse to make the same mistake too many times, as there is a lot of reflection that happens in this program. The most rewarding part of this program, however, are the connections you make with students. While working with Middle School is really difficult, I have made some incredibly positive connections with these students, and it is going to be really hard to say goodbye to them.


What are some challenges?

Not to contradict what I just said, but the students are both one of the best and one of the worst aspects of this program. It's really hard to know what will work well with your class and what won't, and it's also going to be completely dependent on the day of the week, the time of day, the weather that day, and anything that happened in any students' life. Students will one day have an amazing time and love your lesson and react well and do all their work and you'll let out a sigh of relief and joy. But the next period there will be a horrendous class where no one listens to you, and you can barely get through 5 seconds without twelve students talking over you. You can't be a teacher and be an impatient person – impatience and teaching are basically antonyms.


What is some advice you would give a current student about the program and on applying to it?
The main advice I would give is to really think about if you are devoted to teaching. This program will do wonders for those that are committed to teaching, but even those that have intense enthusiasm in the classroom can be run down by the exhausting year that awaits them. If you aren't fully committed to teaching, you're going to lose steam really fast and may burn out before the year is over. It happens, but don't let yourself go there. If you need to take a year off first, do so.


Is there anything you would have liked to have known going into the program?
ASK QUESTIONS!​ There will be times you won't even know what to ask, but find a question to ask. About what's coming up next week, what you need out of an assignment, etcetera. Asking more clarifying questions will be better than having to do work you did not need to do or finding out you didn't do what you needed to do. I'm a very open person for asking questions and never hesitate if I'm at all confused, but I know that isn't the case for everyone. I still wish I had asked more questions to prepare myself more for the year.


Do you have any plans for what you would like to do once you have completed the program?

I plan on moving to Denver, Colorado after I graduate, and working in one of the schools there as a high school English teacher. I'm not sure which school yet, but I've got several people there to talk to. If I can't find a full-time job, or maybe don't find the right school yet, I may plan on substituting a lot throughout the year to figure out which schools I vibe with the best, and then pursuing other things on the side like modeling and drag. I do a lot of things, and so my options are very open. But I know I'm going to be in a classroom next year one way or the other.
If you would like to learn more about the program or have any questions, Zach would be happy to have you reach out to him. His email address is znoel@clarku.edu.