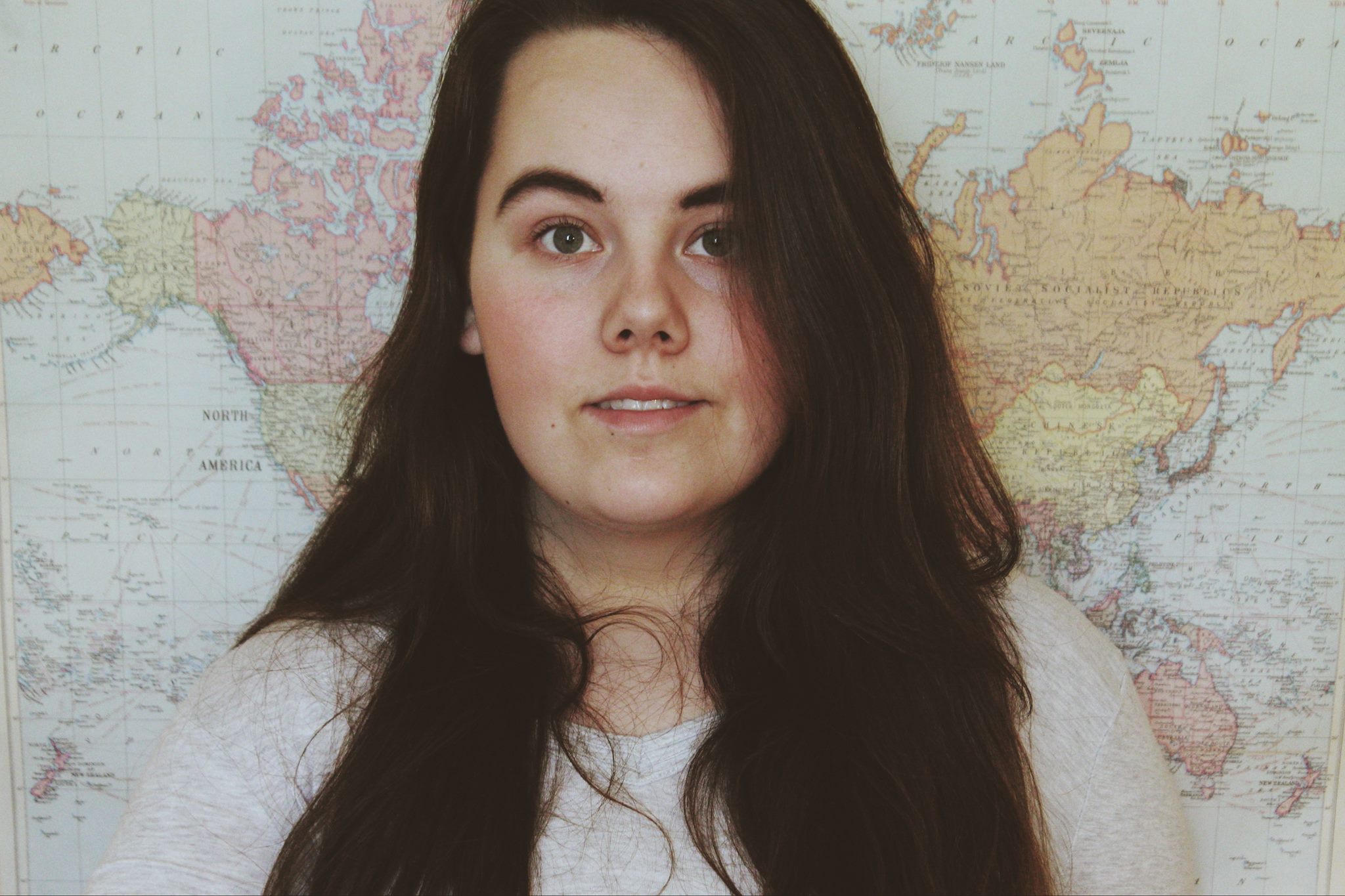 This past week I had the pleasure to meet with senior English major Emily Tornquist and discuss her honors thesis. Emily is a member of the English Honor society Sigma Tau Delta, in addition to being an ambassador at Clark. Her thesis "Palpable Verb Tenses": Non-Patriarchal Modes of Authorial and Readerly Position" explores how texts are experienced and interpreted psychosomatically and argues for a new mode of literary criticism devoid of historically patriarchal implications.
In the spring of 2016, Emily studied abroad at the University of East Anglia in Norwich, England. Emily said that studying abroad there was one of the biggest influences on her thesis, in particular a class The Art of Emotion taught by Dr. Karen Schaller. The course description, "An attention to our emotions – our feeling, affects, and intimacies, as well as our aversions – can make us rethink what it means to be critical and creative readers and writers," intrigued Emily, and she enrolled in the course. Each week in class Dr. Schaller would discuss a dilemma, such as the ethics of meat consumption, and read literature that gave differing emotional perspectives on the issue. The differing perspectives, as well as how the authors were primarily queer women of color, made the course vastly different from American curriculum and provided a wider area of materials to study and learn from.
The inspiration for her thesis, however, came when writing her final assignment for the class. Originally Emily wanted to discuss anxiety in academia yet found it was difficult to write about such a topic without making it an exclusively personal piece. After reading Creative Criticism: An Anthology and Guide by Stephen Benson and Clare Connors, Emily realized that being able to put yourself and creativity into the academic could in fact create a more engaging discussion. This paper that became the introduction to her thesis critiques the differences between the rubric and class standards, —as Emily explains, "a lot of the things I learned asked me to look at a text one way, while the rubric asked me to do something entirely different for a grade."
Her current draft is broken into five chapters, each looking at a different element of the creative critical form. Chapter one covers what the creative critical mode is in academia, chapter two explores how creative criticism can work in a text as a reader, chapter three covers how you can read and interpret a text with a creative critical lens, chapter four explores how creative criticism can work in a text as a writer, and chapter five engages with how to write with a creative critical lens.
Clark's English professors have also proven to be a huge help in the writing of her thesis. Her advisor Prof. Meredith Neuman has really helped her to condense her thoughts into something that is workable on paper. Her second reader Prof. Betsy Huang has given her a wide array of feminist literary works to engage with. One of the biggest issues she has encountered in her research, however, is that as her research started in England, a lot of the materials were only located in the UK, forcing her to buy many books that the Goddard library didn't have own. In addition, Emily has found that as her research primarily deals with personal emotions and the works of queer and female authors of color, there is a degree of tension when she presents her materials to a traditional academic audience.
Emily hopes that readers of her thesis will learn to engage with texts more personally, stating, "When a text is created, it is not meant to stay on the page, it is meant to be mobilized. This is always messy because literary engagement is an incredibly messy thing. It's radical to redefine the academic as personal, but it's crucial to see how we are implicated in texts." In addition, Emily hopes that this thesis will bring attention to female authors who may be overlooked in traditional academic research.
After graduating, Emily will enroll in the Masters of Arts in Teaching program at Clark, and eventually hopes to return to the University of East Anglia and attain a PhD in Creative & Critical Writing.
Check out recent honors theses in the English Department: https://www2.clarku.edu/departments/english/research/index.cf